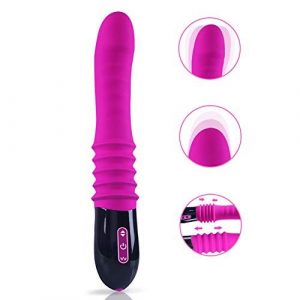 Technology can help spice things up in bed like nothing else today, as counter intuitive as it may seem. Remote controlled toys are more than fun to play with; they create comfort and trust, where you address your partner's needs and vice versa. There's no better way to get a feel for what you like.
Thrusting and remote controlled toys for couples are the future of sex. In teledildonics, pleasure is shareable and mutual. You don't even need to be physically present in the same room as your partner to experience it.
For most couples today, remote controlled toys are a must. This technology facilitates a connection when you're separated, creates novelty, introduces power play, and helps people explore each other's bodies and needs. Here's everything about the future of sex and the best toys for beginners to try.
Thrusting Dildos
A thrusting dildo mimics the movement of real sex. The best products have different thrusting speeds to choose from, independently controlled rotations and vibrations, and even harnesses for hands-free use. The different speed settings make it possible to choose anything from a rough pounding to a gentle thrust and everything in between.
High-quality dildos are safe for all skin types because they are made from materials like hypoallergenic silicone. This is a lifelike and soft material, which is firm at the core. In terms of appearance, it looks just like a human penis.
You can use this toy by yourself or with a partner. The remote control adds to the comfort, convenience, and excitement. It is hard and solid where needed, but also gentle to the touch.
Thrusting dildos yield an unimaginable sensation. The ones sold with a harness are suitable for lesbian sex or pegging. You place the suction cup in the harness or attach it to a hard, but smooth surface. The rotations and vibrations, which you or your partner can control via remote, will take you over the edge eventually.
Thrusting dildos made of hypoallergenic silicone are very easy to clean. To keep it body-safe, wash in warm water with mild soap before and after use. If you use lubricant with it, it should be water-based. The dildo must not come into contact with silicone lubricant or any other silicone product.
Rabbit-style Remote Controlled Vibrator
The rabbit vibrator can be perfect for people who are new to remote controlled toys. It's easy to use because most women are familiar with it. These vibrators feature different settings, such as fast pulses or slow waves. You can find the desired setting before giving your partner the toy. It's important to be on the same page, so make sure your partner is aware of your preferences.
App Controlled Vibrator
These products come with an app that makes them perfect regardless of whether you're flying solo or with a partner. The app controls the experience remotely. There's quite a variety of such toys to choose from on the market today. This is definitely good news because, regrettably, very few high-tech toys focus on the clit.
Wireless Remote Vibrator
Admittedly, this and the next toy is more suitable for people with some experience with this kind of tech. That said, now's the best time to start accumulating it. Wireless remote vibrators are a great way to take erotic play outside the confines of the bedroom. This can include the cinema, a bar, a restaurant…your imagination is the limit.
There are remote vibrators shaped like eggs that the woman can insert and wear. We discourage you from trying to walk around with it inside though. Your partner sits across the room or table and presses a button on the remote to give you a massively pleasurable sensation. A lot of couples find this to be a great form of foreplay.
You can sync wearables with other devices, like a toy your partner loves. This will create a highly stimulating and interactive experience.
Biofeedback Tech Vibrator
These vibrators feature biofeedback technology that registers pelvic contractions, body temperature, and more. They save the data to learn your preferences. They also come with apps, which can help you take things to a whole new level. The app tracks things like your caffeine consumption, how you've been sleeping, and your stress level. Then, it shows their impact on your sexual pleasure.
Mini Bullet Vibrator
Like the rabbit, this is a toy most women are familiar with. Now, you can get it with remote-control function. Some women find bullet vibrators guarantee an orgasm because they cover the clitoris completely. They pack a strong punch, but are discreet in size at the same time. You can use them practically anywhere.
The small size of bullet vibrators makes them perfect for sex in bed. They fit between couples easily, so one can control the other's pleasure.
Vibrating Cock Ring
Unlike most of the other toys on this list, this one is not geared exclusively toward women. While cock rings don't feature remote controlled apps, they can come with a standard remote, used to select from its different functions.
Smart Wand
Smart Wand type toys use special technology to switch on when they come into contact with the body and switch off when you pull them away. As you press the wand into your skin, its vibrations get more intense.
Additional Benefits of Smart Toys
Since the vibrator was invented in the late 19th century, it has been operating according to the same principle, more or less, so the idea of a "smart" toy might seem strange. Until recently, their highest-tech point was the vibration, with different pulsing patterns and intensities. Today, companies aspire to make these toys more and more advanced.
Couples in long-distance relationships can use toys on each other when they're apart, sometimes even in different countries. Vibrators and cock rings save data on your performance to help you improve solo play. Finally, there are toys which will optimize your experience. To be considered high-tech, the toy should know your preferences better than you!